MAGNUM Prosecco personalized with label, gift idea for birthday
It takes calm and cold prosecco - MAGNUM Prosecco Treviso Extra Dry DOC - 1,5 lt. - Personalized with tag as an original birthday gift idea
1.50 lt.
Sparkling
Veneto
> Azienda Vinicola Salatin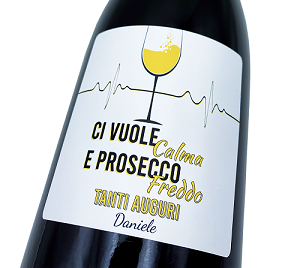 DENOMINATION: Prosecco DOC
VINES: glera 100%
ALCOHOL CONTENT: 11%
SIZE: 1.5 lt.
SERVING TEMPERATURE: 6/8 ° C
WINE PAIRING: appetizers, savory pies
Vol %: 11.0%
Grapes: Glera 100%,
Ageing type: Steel Tank ,
Organoleptic classification: Aromatic, Floral bouquet, Fruity
Serving temperature: 6/8 C°
Occasion of use: Anniversary
Tasting Notes: "The yellow to the glass is straw-yellow, with light greenish reflections and lasting perlage. The nose is floral and fruity, characterized by hints of acacia and jasmine flowers, followed by notes of white peach and green apple. The taste is fresh and smooth, in line with the bouquet and good length."
Condividi
Altri prodotti in
Birthday