Personalized Prosecco - Graduation gift idea
Prosecco Treviso Extra Dry - 0.75 lt. - personalized bottle with label and dedication - gift idea for graduation
0.75 lt.
Sparkling
Veneto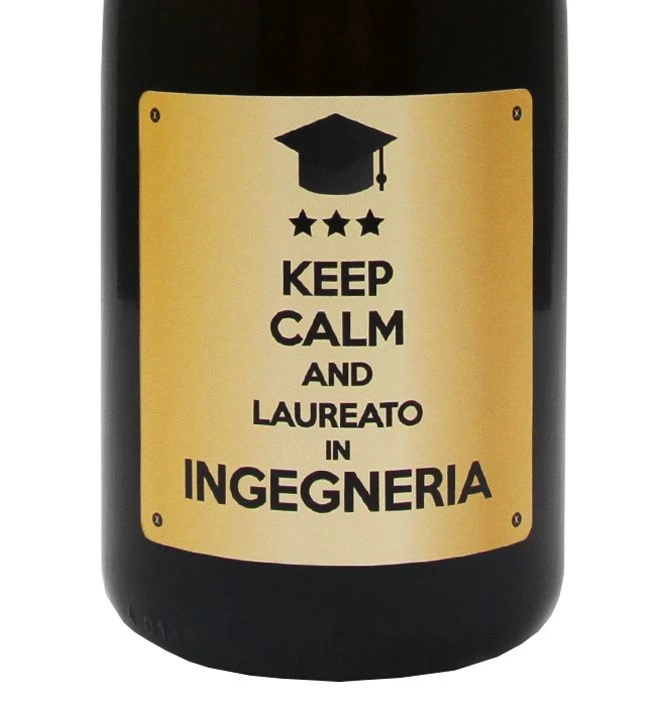 Are you looking for a personalised gift for a friend's or friend's graduation party? Someone in the family is about to graduate and you still haven't found something really special? Let Bottle-Up help you out: go for a sparkling wine, specially designed for graduation celebrations, and surprise the birthday boy or girl with a bottle with a dedication. With such a choice you will, without a doubt, be on the safe side! Bottle-Up Prosecco, in fact, is of great quality; it will be a more than welcome gift, perfect both to be opened on the spot - and give the occasion just the right sparkle - and to be kept for another special occasion. The bottle with the dedication will allow you to make your gift truly unique; it will not be confused among all the other gifts and the care you put into it will certainly be appreciated. So there's no need to search far and wide: Bottle-Up's sparkling wine, perfect for graduation, is just the thing for you and just a click away! Surprise those close to your heart with a personalised gift; let them exclaim "Wow!" in front of your bottle with a dedication and let them remember your loving gesture for years to come with your graduation sparkling wine. This personalised gift will make you super proud and it will be great to leave the birthday boy or girl speechless: so you won't risk giving something already seen and it will certainly be impossible to show up with the same gift as someone else.
DENOMINATION: Prosecco DOC
VINES: glera 100%
ALCOHOL CONTENT: 11%
SIZE: 0.75 lt.
SERVING TEMPERATURE: 6/8 ° C
WINE PAIRING: appetizers, savory pies
Vol %: 11%
Grapes: Glera 100%,
Ageing type: Steel Tank ,
Organoleptic classification: Aromatic, Floral, Fruity
Serving temperature: 6/8 C°
Occasions of Use: Anniversary
Tasting Notes: "The yellow to the glass is straw-yellow, with light greenish reflections and lasting perlage. The nose is floral and fruity, characterized by hints of acacia and jasmine flowers, followed by notes of white peach and green apple. The taste is fresh and smooth, in line with the bouquet and good length."
Condividi
Altri prodotti in
Graduation