96 Personalized mignon Prosecco bottles - wedding favors
96 Small bottles of Prosecco personalized with label for gastronomic wedding favors - Mignon Prosecco Extra Dry DOC 20cl
96 Bottles
0.20 lt.
Sparkling
Veneto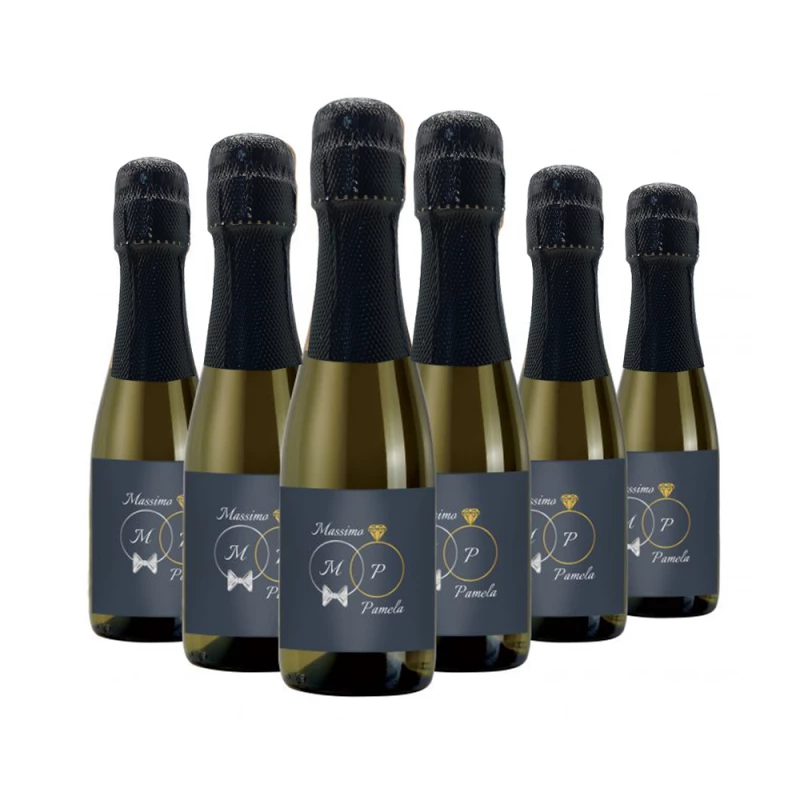 Your wedding is approaching and you are, therefore, looking for exclusive wedding favours for your wedding? Would you like to focus on wine-themed wedding favours? If so, you've come to the right place: here at Bottle-Up, there is no shortage of ideas. For example, our mini bottles of Prosecco are always a big hit! Specifically, these are 0.20 cl mignons of Prosecco Extra Dry, marked by hints of golden apples and notes of dog rose and wisteria, inviting and flowing. Thanks to Bottle-Up, then, you can make your wedding favours truly unique by personalising the labels of the mignons; you can, in fact, add your name and that of your partner and the date of your wedding: trust me, no detail will go unnoticed! So don't wait any longer: your wine-themed wedding favours are just a click away! All you have to do is have fun customising the labels and then proceed with the order; in a few days you will receive our mini Prosecco directly to your home... nothing could be easier! Tomorrow it will be nice for your guests, sipping a glass of your Prosecco, to remember your wedding and the joy you shared that day - isn't that great! So if you want to stand out and the 'Wow!' effect is what you're after, these are the perfect wedding favours for your wedding. Wine-themed wedding favours are always a winning idea and your guests are bound to love your mini Prosecco - you don't get quality bubbles like these every day!
DENOMINATION: Prosecco DOC
SERVING TEMPERATURE: 6/8 ° C
WINE PAIRING: appetizers, savory pies
Vol %: 11%
Grapes: Glera 100%,
Serving temperature: 43620 C°
Tasting Notes: Bright straw yellow color, with regular and lasting perlage. The nose is clean and pleasant, with notes of Rosehip, wisteria and golden apple. Well balanced and consistent in the mounth with a fresh and good length.
Condividi
Altri prodotti in
Weddings